Welcome to Augustine Restaurant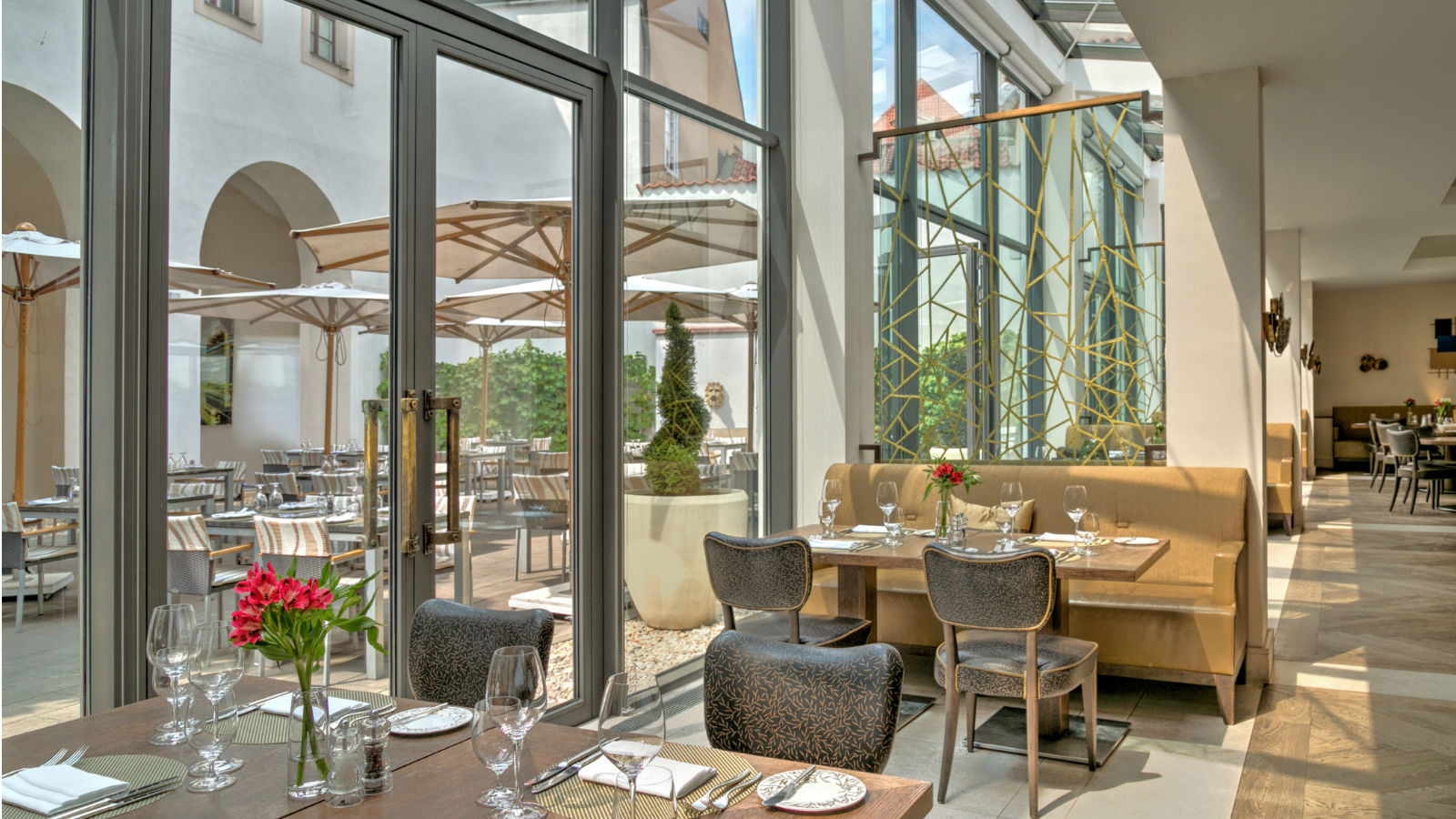 Enchanting ambience of a former Augustinian monastery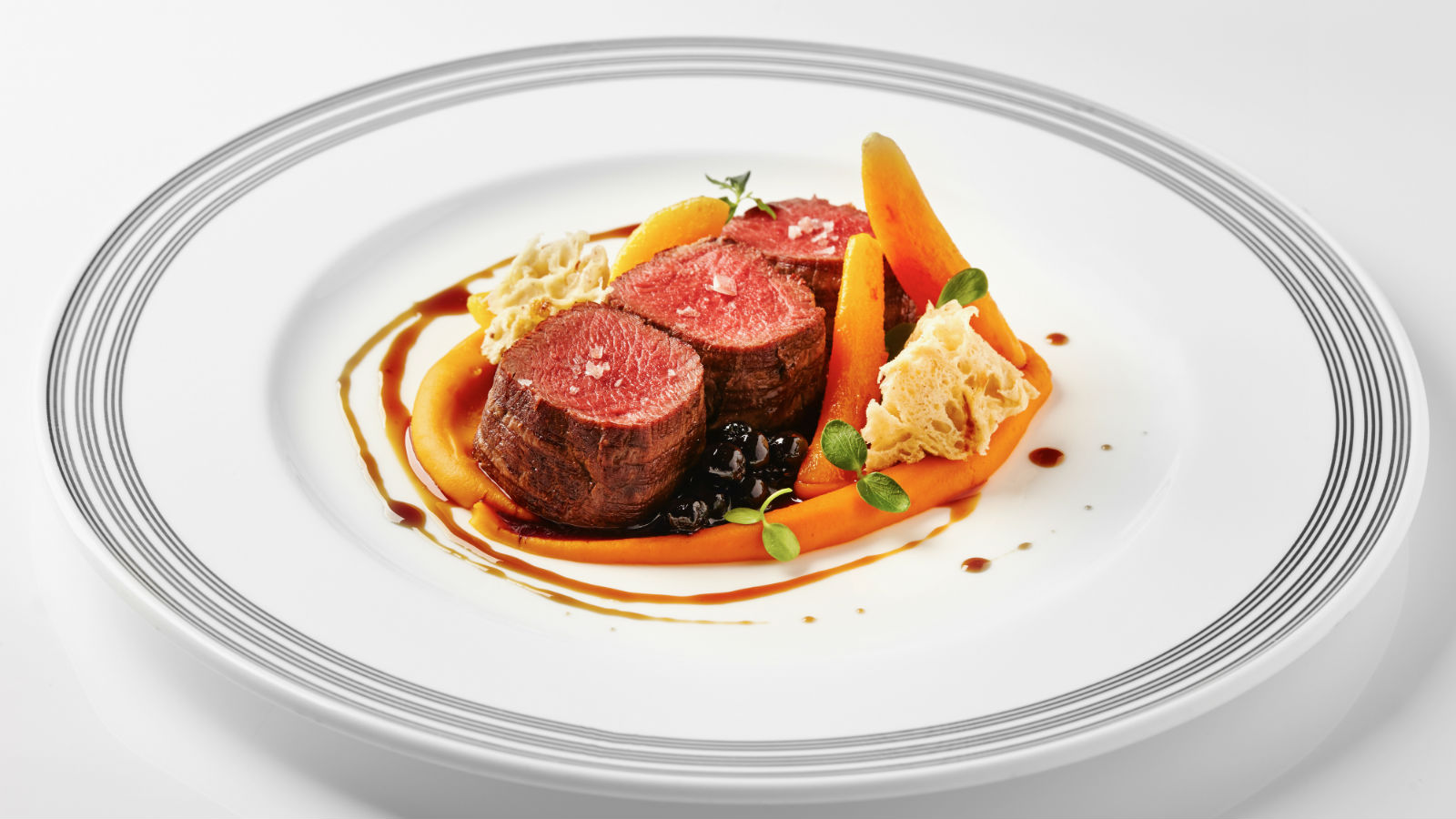 Elegant European cuisine delicacies from fresh seasonal ingredients
Special Offers
Come taste something extraordinary! Our Executive Chef Marek Fichtner, also known as MasterChef from TV screens, is preparing a lavish barbecue cuisine every Thursday from 18:00 into the evening. The grilling itself is a show, the tastes are unique and atmosphere on the terrace of our Augustine Restaurant is breathtaking. Learn More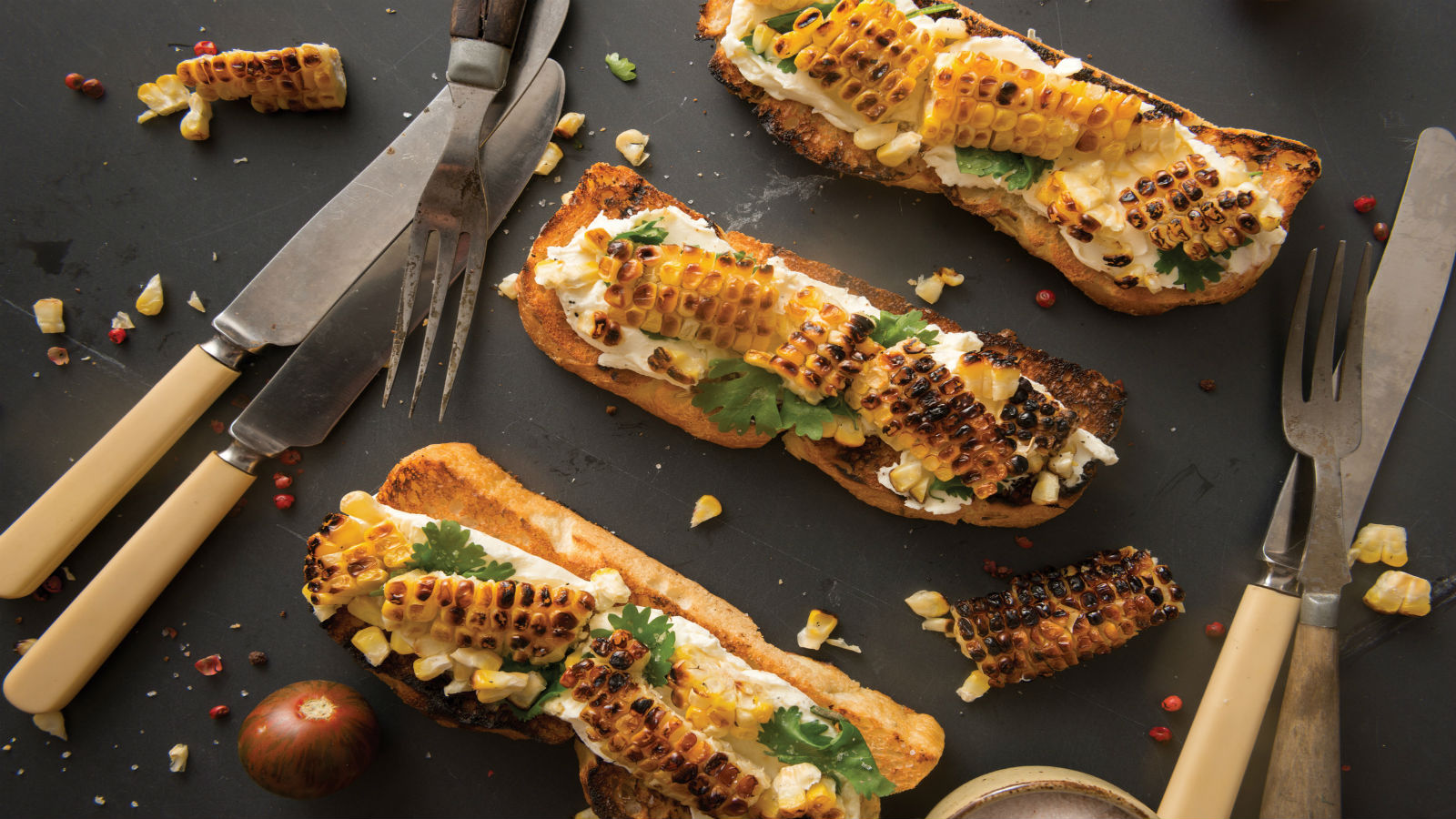 Barbecue from MasterChef Marek Fichtner
Come taste something extraordinary! Our Executive Chef Marek Fichtner, also known as MasterChef from TV screens, is preparing a lavish barbecue cuisine every Thursday from 18:00 into the evening. The grilling itself is a show, the tastes are unique and atmosphere on the terrace of our Augustine Restaurant is breathtaking.

Garden BBQ / 880 CZK

STARTERS | SALADS
******

• Prosciutto|rocket salad|Parmigiano
• Selection of chilled summer soups
• Beetroot|goat cheese|rocket salad|walnut dressing
• Grilled vegetables|balsamic reduction
• Greenland shrimps salad with Fregola|artichokes and sundried tomatoes
• Roasted pepper salad with ciabatta croutons and olives
• Hummus|Tabbouleh
• Octopus with potatoes
• Mixed lettuce salad|croutons|dressings
• Focaccia|Flat bread

FROM THE GRILL
******

• Grilled Humboldt squid tentacles
• Cajun sea bass
• Beef kebab
• Jerk chicken skewers
• Southern BBQ pork ribs
• Grilled pork belly
• St. Thomas sausages

Accompanied with...
• Button mushrooms with thyme
• Ratatouille
• Baked potato with sour cream
• Green beans with savory and shallots

BBQ SAUCES AND DIPS
******
Aioli, tzatziki, tomato sauce, mustard, yogurt and honey dressing

DESSERTS
******

• Lemon pie
• Churros
• Strawberries with pink peppercorn and cream
• Fruit jellies
• Caramel and nuts tartelettes
• Sliced seasonal fruits


Please let us know that you are coming. The space is limited.

Reservations:
restaurant.augustine@luxurycollection.com or +420 266 112 280.
via Reservations
Enjoy the exclusive 4-course "Monastery" degustation menu in the intimate atmosphere of the Tower Suite – the former astronomical tower featuring a 360° view of Prague. Learn More
Romantic dinner in a tower
Enjoy the exclusive 4-course "Monastery" degustation menu in the intimate atmosphere of the Tower Suite – the former astronomical tower featuring a 360° view of Prague.

Amuse Bouche
******
Kohlrabi ravioli | red radishes | green peas espuma | hazelnuts | apple
*******
Spring chicken consommé | ramson | liver | quail egg
*******
Braised piglet shoulder in St. Thomas beer | shallots | potato puree | ramson | Pioppini mushrooms | crispy red onion
*******
Dandelion honey sponge | violet mascarpone | raspberry sorbet





Upon availability. Reservation min. 1 week in advance required.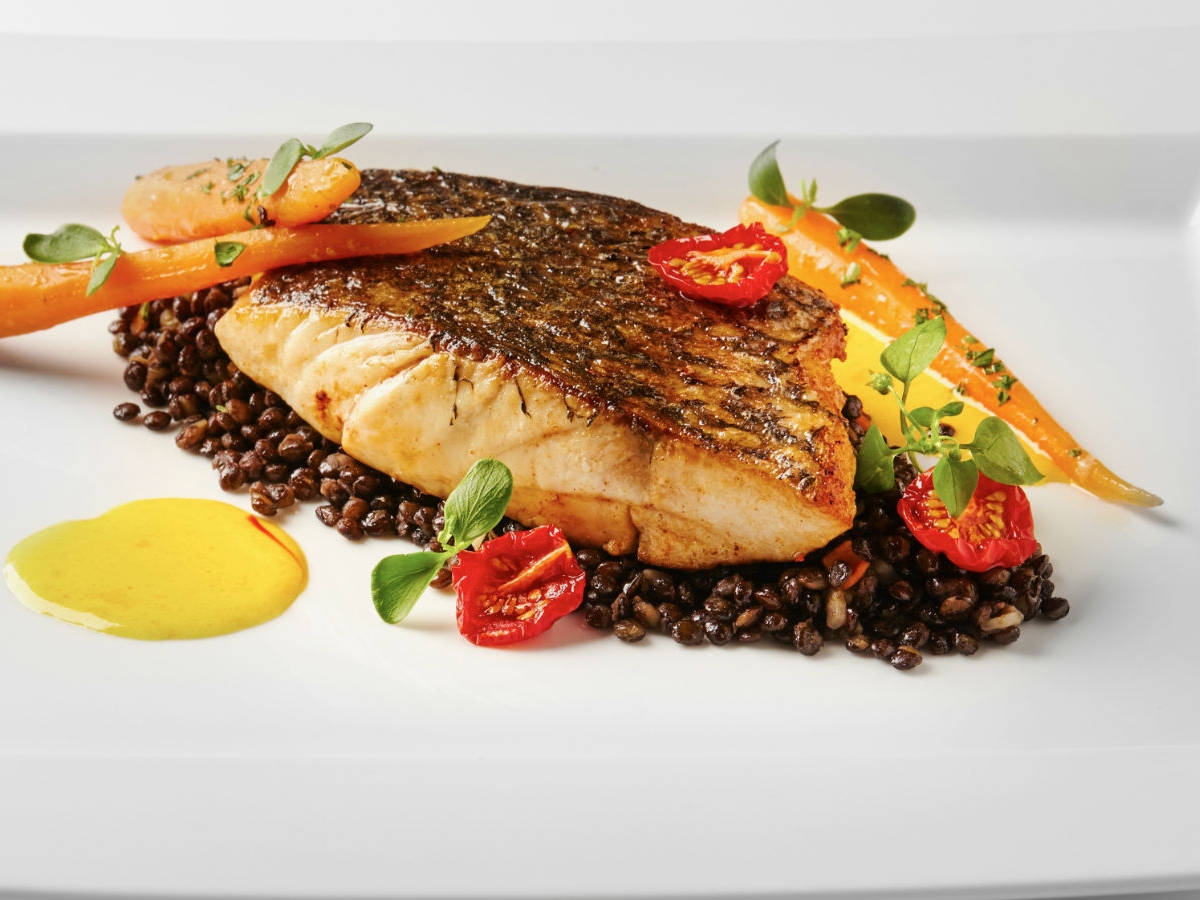 Don't hesitate to come to Augustine Restaurant and taste our delicious Seasonal Lunch Menu created by our Executive Chef Marek Fichtner and his team using the freshest seasonal ingredients. Learn More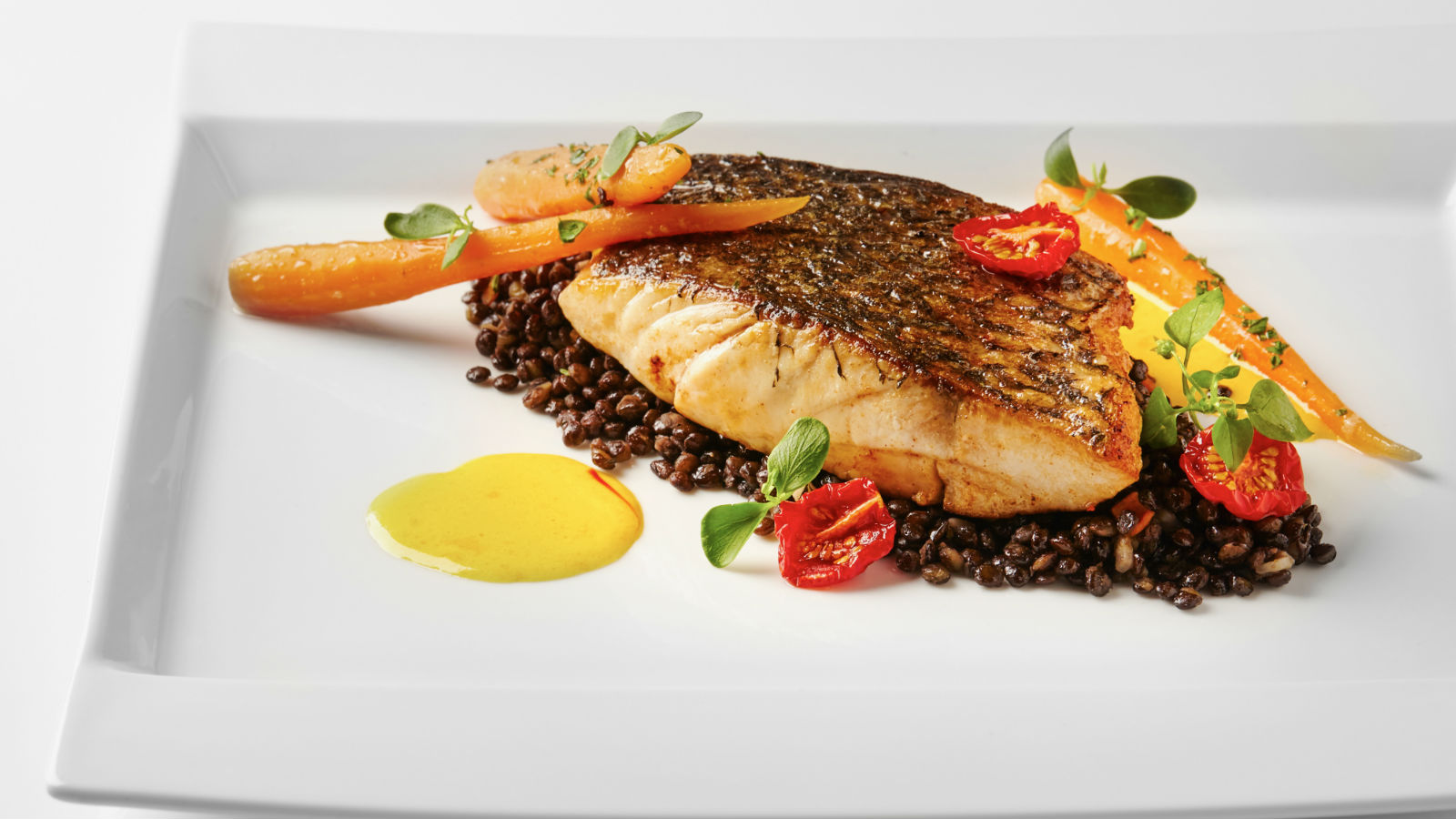 Seasonal Lunch Menu
Starters

Cream of green pea | smoked pork knuckle | pea sprouts

Strawberry carpaccio | avocado ice cream | wild green asparagus | Parmigiano | balsamico syrup

Lamb lettuce | eldeberry and dandelion dressing | nut granola | apricots

Main Courses

Wels catfish | Lardo di Colonnata | broccoli | lila potatoes | spring onions

Beef Entrecôte | chanterelle sauce | potato fondant | green beans

Zucchini blossoms | goat cheese | chive | white polenta | red and yellow cherry tomatoes

Desserts

Apricot cream | tonka beans | caramel cookies ice cream | peach

Lime mousse | vanilla sablé | elderberry ice cream | flower pollen

Assortment of European cheeses | fruit bread | chutney | nuts with honey

2 course menu / CZK 590
3 course menu / CZK 710
Offer valid from Monday to Friday 12am - 3pm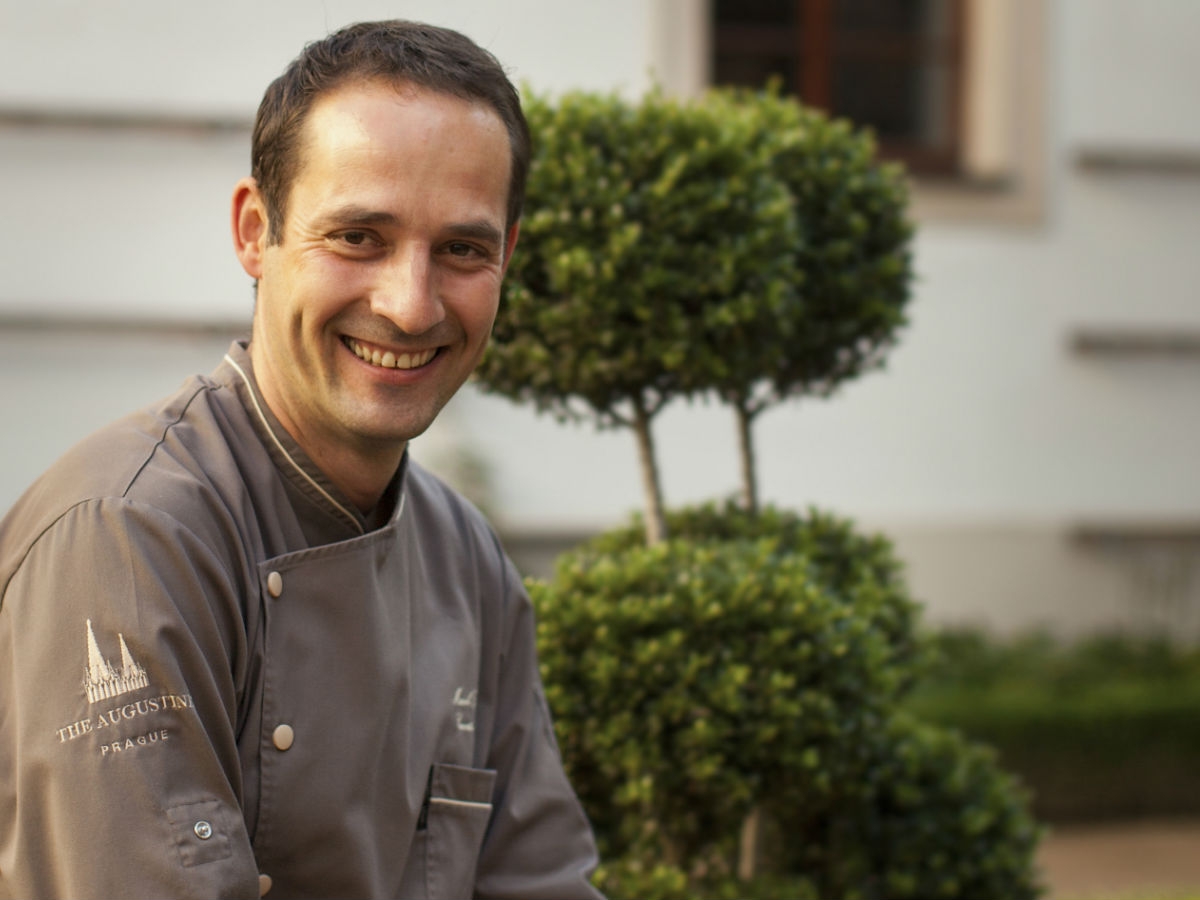 Learn to cook exclusive delicacies under the supervision of our Executive Chef Marek Fichtner, a culinary show MasterChef juror. Learn More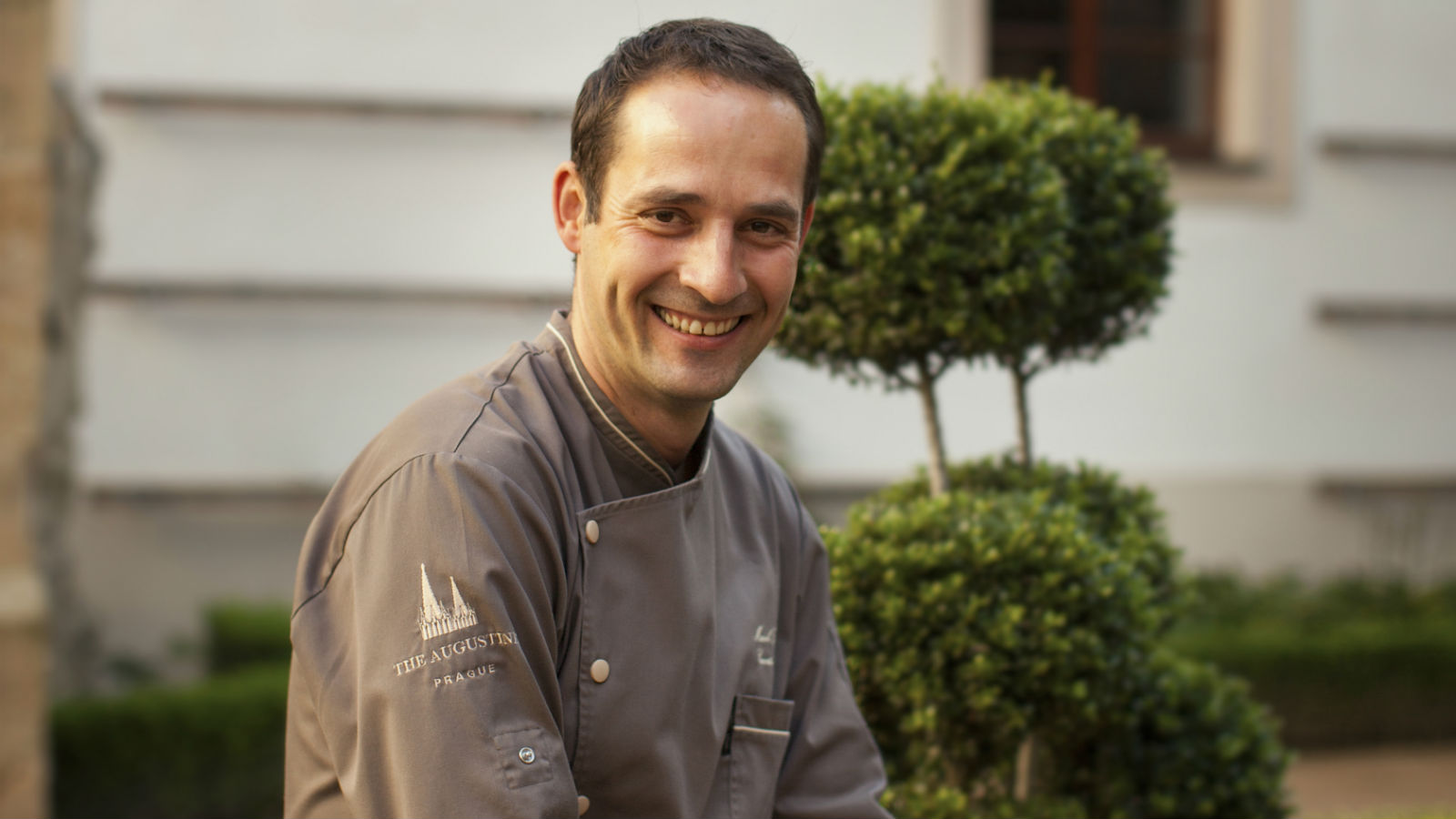 Cooking Classes with Marek Fichtner
Learn to cook exclusive delicacies under the supervision of our Executive Chef Marek Fichtner, a culinary show MasterChef juror.


MENU
Seasonal three-course menu(According to the individual agreement with the client and the season)

VENUE
Brewery kitchen – Brewery Bar or Augustine Restaurant. Capacity for 4 to 10 persons.


DURATION OF THE TRAINING
About 3-4 hours + a guided tour of the hotel, the Augustinian monastery and the Church of St. Thomas, ended by a dinner which consists of prepared meals.


DATES OF OUR TRAININGS ARE TUESDAY AND WEDNESDAY



PRICE PER TRAINING: 2500 CZK / PERSON


the price includes three-course menu, a wine or non-alcoholic package and a unique gift)
Reservation in advance required.
Do you want to impress your friends and family with your skills or just learn something new while having a wonderful time at a popular bar? If yes, take part in a highly interactive and fun course held in the Refectory Bar 1887 where one will learn how to prepare both traditional and modern cocktails. You will master the use of basic bartending techniques, gain multitasking and creativity skills, and even apply pieces of scientific knowledge. Learn More
Augustine Cocktail Classes
This practical training gives everyone the opportunity to cooperate closely with our chief bartender and his bar team. You will discover the beauty of the art of working behind the bar counter and the fun of mixing cocktails, develop dexterity skills in the basics of bartending and taste all the cocktails that you´ve learned to prepare according to the eras in which they were invented.

__________________________________________________________________________________________________

MODERN ERA (1998 – Present days)

The Modern era of cocktails marks the return to the roots of bartending and the adaptation of current technologies, also applied in the kitchen. Bartenders rediscover the classic cocktails and the methods of masters who stood behind bar counters in old times. Drink mixology is practiced all over the world and modern masters of cocktails devour the pages of traditional recipes found in dust-covered books so their own tinctures and bitters regain the taste of lost and forgotten spirits. The combination of bartending methods and ingredients from the kitchen enable to create ever renewed kinds of cocktails.

PREPARED COCKTAILS:
Penicillin Cocktail (Scotch Whisky based / Shake)
Gin Basil Smash (Gin based / Shake)
Chartreuse Swizzle (Green Chartreuse based / Swizzle)

******

DISCO ERA (1970 – 1998)

The counterculture of the movements in the 1960s enabled many great social changes and reductions of inequalities. It also gave birth to other forms of relaxing substances and non-conformist ways of living. The old idea of Cocktail parties became obsolete and many social codes underwent a change. Cocktails were still drunk but their consumption became much less ritual. Classic cocktails fell into disfavor as something that parents used to drink, and they were replaced by fruit or sweet drinks.

PREPARED COCKTAILS:
Cosmopolitan (Vodka lemon based / Shake)
Margarita (Tequila based / Shake)
Bobby Burns (Bourbon / Straight)

******

TIKI ERA (1940 – 1970)

Tiki culture is a 20th century theme used in Polynesian-style restaurants and clubs originally in the United States and, to a lesser extent, all around the world. Although inspired by Tiki carvings and mythology, the connection is loose and stylistic, being an American form and not Polynesian fine art form. If you want to prepare great tiki cocktails, start with rum. But rum is not used in all tiki cocktails. Some of them use gin, Scottish or other whiskies, pisco and other brandy, or tequila. Tiki cocktails are inspired by the tropics, and since the rum is very popular there, you should start with it.

PREPARED COCKTAILS:
Mai Tai (Rum based / Shake)
Corpse Reviver #2 (Gin based / Stir)
Fog Cutter (Cognac based / Roll)

******

PROHIBITION AND POST-PROHIBITION ERA (1920 – 1950)

Alcohol prohibition in the United States in the 1920s and the 1930s is one of the infamous eras of modern American history. This period, which became a golden era for cocktails, is associated with gangsters, smugglers, illegal alcohol vendors and illegal saloons "speakeasies". The so-called "Noble Experiment" led many American bartenders to the gangland or to the decision to leave the country. Some bartenders preferred to ply their trade in London, Paris, Havana or Tijuana, rather than give it up or become criminals.

PREPARED COCKTAILS:
Old Fashioned (Rhye Whisky based / Straight)
Sazerac (Cognac based / Shake)
Bloody Mary (Vodka based / Roll)

******

CLASSIC ERA (1885 – 1920)

Bartenders of this era introduced new, lighter and simpler forms of cocktails. The cocktail preparation in the shakers was replaced by typical methods of mixing, adding carbon dioxide to the cocktails. At the same time, there was a
boom in glass products, bartending tools and a rise of consumption of vermouth and fruit juices in the cocktails. Thus, cocktails started to be mixed with spirits such as whisky or gin. Due to the ravages of phylloxera in Europe, traditional
spirits were replaced by American and Scottish whiskies and this increased the use of London Dry Gin.

PREPARED COCKTAILS:
Martini (Gin based / Stir (Always))
Punch (Rum based / Straight)
Morning Glory Fizz (Scotch based / Shake)

THE COST OF ONE COURSE: 1700 CZK / PERSON
SPECIAL PACKAGE FOR COMPLETE ERA COURSE: 270 EUROS/PERSON
DO NOT HESITATE AND COME TO MIX YOUR OWN COCKTAIL AS SOON AS POSSIBLE. Groups of 5 and more persons will get a special 10% discount of the total price.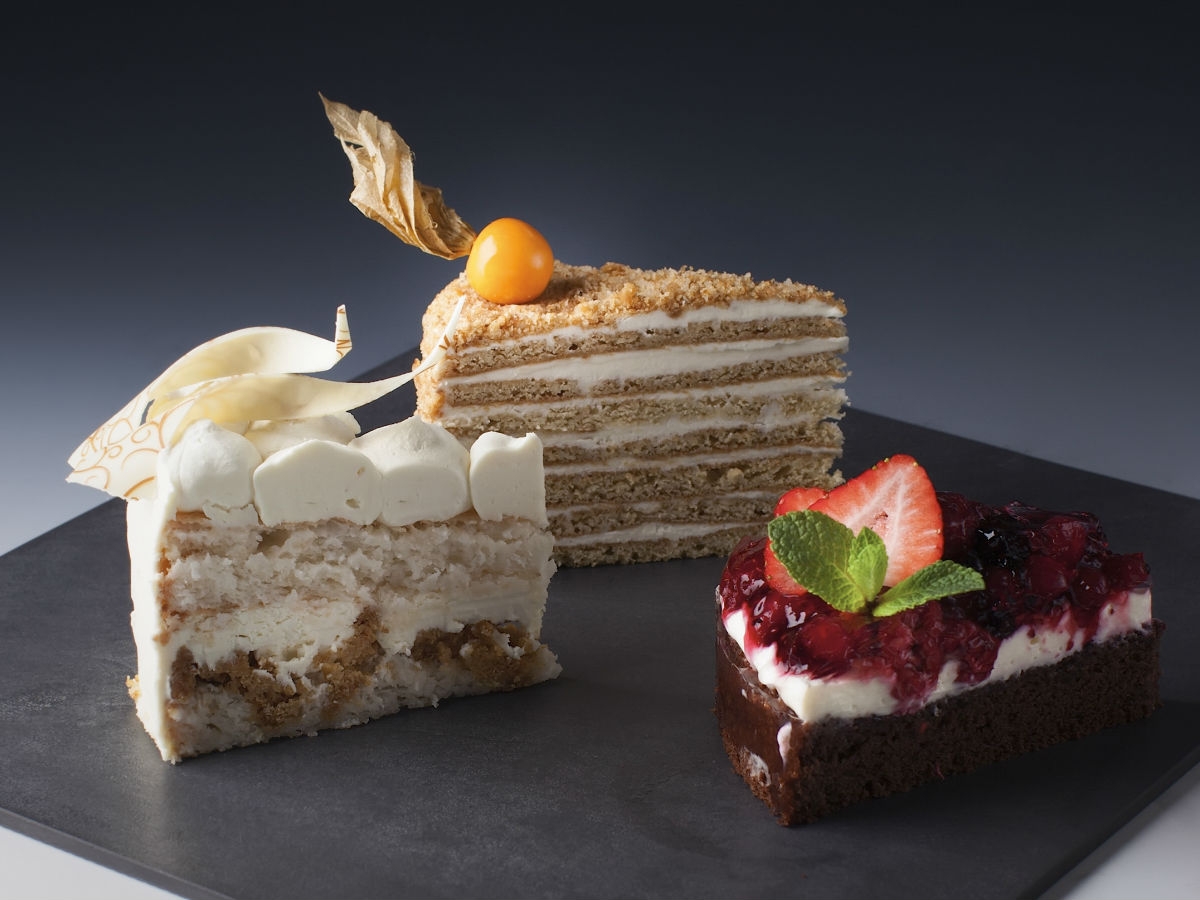 Enjoy the afternoon coffee and sweeten your life with a delicious cake of the day made by our Pastry Chef. Blond & dark chocolate mousse cake, Cheessecake pistachio, Pecan pie, Opera cake of Carrot cake – there's always a lot to choose from! Learn More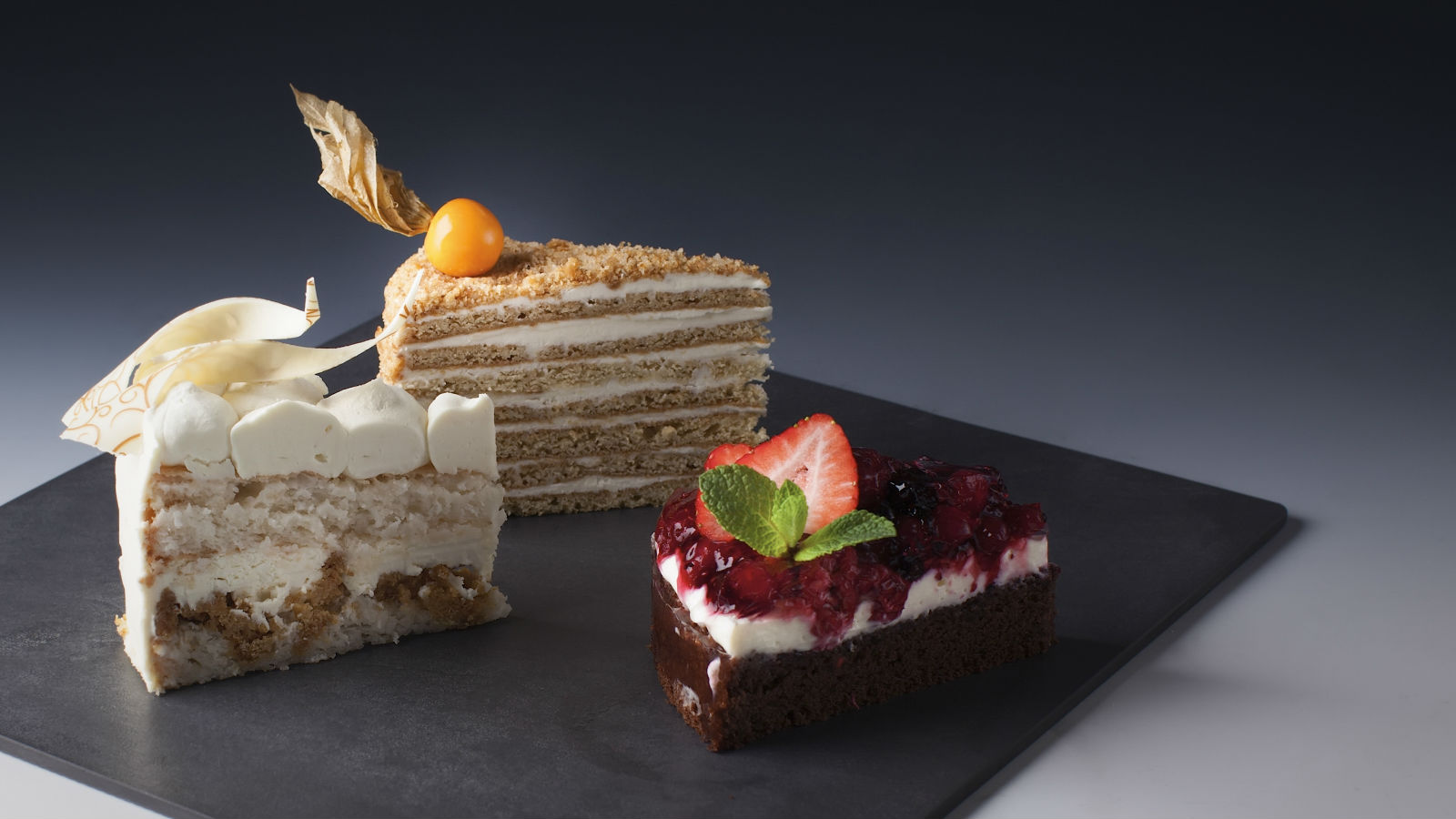 Coffee & Cake of the Day
Enjoy the afternoon coffee and sweeten your life with a delicious cake of the day made by our Pastry Chef. Blond & dark chocolate mousse cake, Cheessecake pistachio, Pecan pie, Opera cake of Carrot cake – there's always a lot to choose from!

Coffee & Cake of the Day - CZK 190 / EUR 7
Offer valid daily