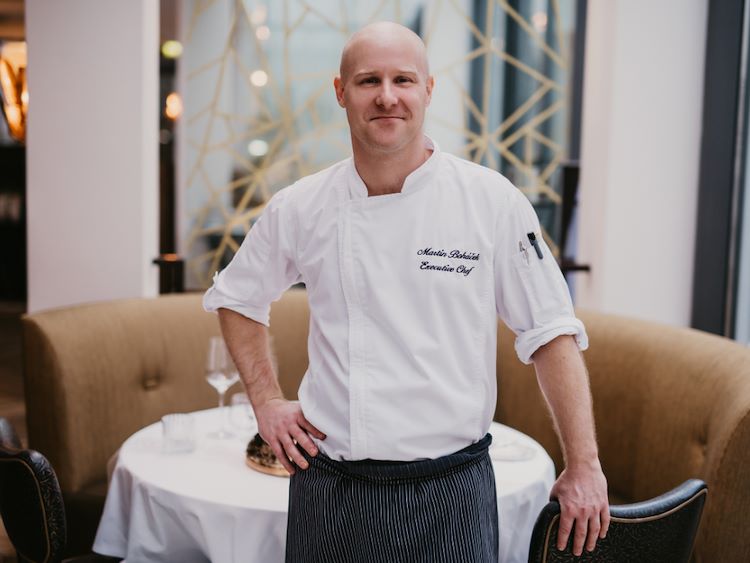 Martin Boháček Executive Chef at Augustine Restaurant
Martin Boháček developed his passion for cooking in quite an early age as he was inspired by his own family, who also decided to pursue a culinary career. Over the years he has enriched his professional life with various experiences, from both Czech Republic and abroad.
Martin got to fine dining exploration, when he met with Swedish Chef Lars Sjöstrand, who also inspired him and later encouraged him to gain experiences abroad, especially in Great Britain, as Martin himself says "When I met Lars, cooking stopped being just a job, it became something I love and want to do for the rest of my life". Over the years he was privileged to cook and work in Manchester or later in the south coast of England, where he was cooking lunches for executives of Royal Bank of Scotland or later was preparing specialties for the exclusive dinners at VIP lounges in Manchester United FC stadium.

After returning to Prague, Martin joined Gordon Ramsay's team at the newly opened French restaurant Maze Prague at the Hilton Prague Old Town, which was awarded a Michelin star. Martin later used his culinary experience and skills to revive the then Czechouse restaurant in the Hilton, which he raised to higher heights than ever before. Every day, he supervised the smooth, trouble-free operation and gradually moved the kitchen and his art forward to ensure that the expectations of all his guests were met.

When he met Marek Fichtner at Hotel Kempinski's restaurant Le Grill, he discovered the perfect combination of being great and inspiring team leader & creating high quality epicurean experiences for guests with focus on genuine honesty, creativity, passion and empathy. This encounter inspired Martin to pursue his career as a Chef and opened his doors to the hospitality garden of Eden.

His long time experiences in hotels Hilton Prague and LePalais, where he was privileged to cook for famous guests including Ennio Morricone, Mirelle Mathieu, Mike Tyson and Priscilla Presley, led him to join the Augustine restaurant team as Executive Chef.

Martin believes that constant search for great seasonal, local and sustainable products as well as treating it with respect, knowledge and skill is necessary to meet and exceed guest's expectations. He feels grateful to prepare nutritionally balanced, healthy meals which at the same time enchant all the guest´s senses by its delicious taste, rich flavors and variety of textures.